The sunflower dehulling machine is specially designed for sunflower dehulling and kernel husk separation in the oil milling plant.The huller works by means of extrusion, shearing, twisting and tearing of the paired rolls. The kernel husk separator works by means of vibrating screens and air currents according to different bulk densities and sizes of the husks and kernels.
After cleaning, oilseeds such as sunflower seeds are conveyed to the seed dehulling equipment to separate the kernels. KMEC's sunflower dehulling machines adopt a unique seed dehuller and are controlled by frequency conversion technology. Sunflower seeds which remain unhulled are recycled within the equipment until properly dehulled. The efficiency of the dehuller is about 95 to 98 percent, with the rate of broken kernels at 2 to 5 percent.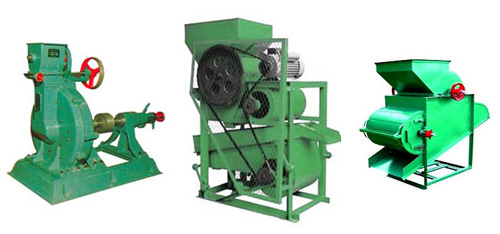 What exactly is sunflower dehulling machine?
Sunflower dehulling machine hulling machine could possibly be identified as Disc Huller, it's used with dehulling oilseed shells like peanut inshell, cotton seed, apart from that this type of seed hulling machine could also be used to grind oilseed like peanut, soybean and so forth.
Features of the sunflower dehulling machine
Compact yet with a high capacity, easy to manage and less labor intensive. Utilizes a special plate screen with a reduced frequency of sceen replacement to improve the efficiency of production. The paired rolls, made of new material ADI castings, have been treated via a special process for durability. By adopting a multiple vertical air current process, circulation has been improved.
Sunflower Dehulling Machine Technical Data:
    Capacity: huller: 100t/d(24h)
    kernel husk separator: 50t/d(24h)
    Husk separation rate: 90~98%(water content: 2~10%).
    Rate of husk in kernel: 1~4%
If you're interested in our products or have any questions, please let us know. Don't hesitate to contact us!  Email: info@oilrefineryplant.com